WE NEED YOUR SUPPORT!
HELP PROTECT BIOIDENTICAL HORMONES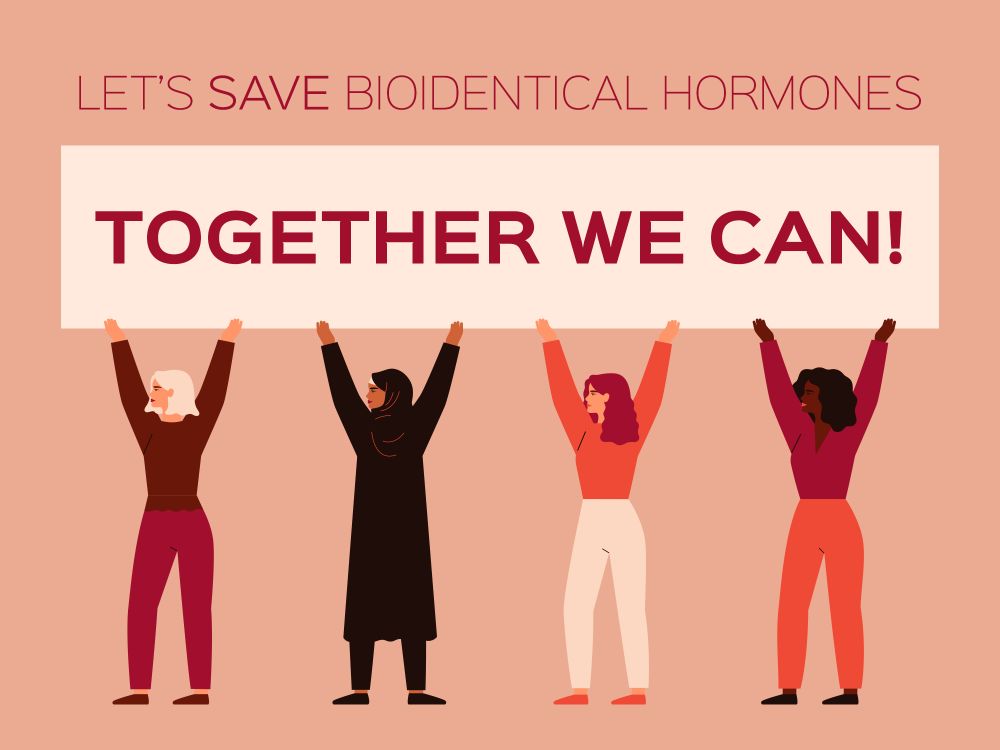 DON'T LET THE FDA TAKE YOUR HORMONES AWAY
Compounded bioidentical hormone replacement therapies (cBHRT) from compounding pharmacies have become a staple in the lives of millions of women around the world. They have saved men and women from suffering through horrible effects of low hormones after their body's hormones quit on them. Their use has saved marriages, given lives back, and rewarded us with a quality to our lives that we wouldn't normally find with off the shelf medications.
Compounded bioidentical hormones have also been there for us when FDA approved synthetic hormones proved to be unsafe. Pharmacists rallied and supplied women with safer alternatives – customized bioidentical hormones – fine-tuned to the amount of hormone our bodies need.
And this is an important point. Hormones made by pharmaceutical companies (prescribed by doctors who don't know much about hormones in the first place) could never match the or meet the type of customization that is necessary for long term success and life altering experiences.
But none of this is stopping the FDA and greedy pharmaceutical companies from trying to restrict your access to cBHRT. We're here to ask for your help!
We're collecting BHRT patient testimonials and we need you!
The Alliance for Pharmacy Compounding (APC) has created a Patient Testimonial Portal where BHRT patients (as well as their prescribers and compounders) can share their BHRT experiences.
If you are taking or have taken compounded hormone therapy, please take a few minutes to share your experiences. And if you work with a BHRT prescriber , have friends that use cBHRT, or use another compounding pharmacy, please share the link with them.
The site allows patients or you to type in a short testimonial, or even upload a document of an audio or video recording. It only takes a few minutes.
Take Action Now!
CLICK THE TAKE ACTION BUTTON IN THE LINK BELOW AND TELL
CONGRESS TO PROTECT BIOIDENTICAL HORMONES!!!
FDA FEELING THE HEAT.......TAKE ACTION ON THIS ISSUE
---
WHN is a registered 501C(3) not-for-profit corporation to promote, advocate, and advance women's wellbeing and longevity through clinical research and education about the benefits of Physiologic Restoration™ to reduce the symptoms of hormone imbalance and degenerative decline.